The town of Avondale was founded at the height of a land boom, a period between 1880 and 1893 when Birmingham's explosive industrial and commercial growth earned it the title StreetCar"The Magic City." As new industries began turning out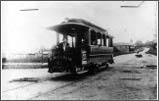 products, railroads extended their lines through the city in order to supply world markets. Birmingham expanded physically with residential and industrial districts growing up in all directions. To the east of Birmingham lay a long stretch of level ground, well suited to industry and the rolling hills from Red Mountain furnished excellent sites for homes. A strong residential and industrial district that grew up in this region became the town of Avondale. Incorporated as a municipality in 1889, Avondale had a population of 1,000 by 1890 and 3,000 by 1900. When the town was annexed into the city of Birmingham around 1907, the population stood at approximately 5,000.
Despite cycles of boom and bust over time, many of Avondale's finest historical features and prominent attractions exist today.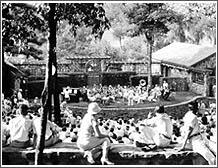 The current landscapes of Avondale including the natural resources and the built environment are physical manifestations of the history of the town. Characteristic of Avondale, past and present, is the mix of industrial, commercial, Ampitheatrecivic, and residential uses of assorted density. Recent efforts to restore the historic resources of Avondale Park, to redevelop the commercial district, and to revitalize a sense of community pride are positive forces that will result in a promising future for Avondale. The park is now one of the finest in the city; Avondale's new library sits unobtrusively on its street corner; and Forty-First Street (formerly Spring Street) is still a broad avenue with many old buildings remaining. Many of the investment trends in the neighborhood and commercial properties are a result of changing settlement and development patterns and the many opportunities that the assets of Avondale have to offer.